From backyard splash pools to elite endurance training, there is a swim spa to suit everybody and every purpose. Let us guide you through all the different types and arm you with the information you need to make an educated decision on which Sapphire swim spa is right for you. Our information is our no-nonsense guide to buying something energy efficient, practical and relevant to your family's needs.
Sapphire swim spas are not only our largest spas but, because they can be heated, you can use them as a swimming pool all year round. Swim spas are basically a 24/7 gym in your own backyard with a hydrotherapy massage at the other end. You can swim, walk or run against the jets which are fully adjustable to cater for all levels of swim fitness. By adjusting your swim jets, kids will be able to swim strokes and hold themselves in the jet stream. A race to 'beat the jets' and be the first to the swim jet end of the spa is just as much fun!
myPersonalTrainer is our best selling affordable family swim spa. It's 4.5m long with massage spa jet seating at one end and a large open area at the other end which is the just the right size for the kids to jump around in the pool or for swim training and exercise against the 4 powerful swim jets.
VIEW ALL PRODUCTS
Dualzone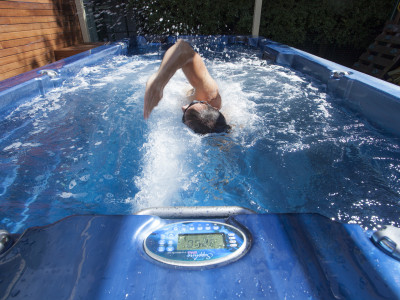 M6Dualzone

9 5980 x 2290 mm
M6Dualzone

9 5980 x 2290 mm
Learn More
Try one out
To provide a backyard pool that can be used all year round and is easier to maintain than the usual inground swimming pool, Sapphire Spas have designed our M6 range of swim spas. At 6metres long, these swim spas boldly take their place in your backyard as the solution to the old inground pool which is time consuming to clean and doesn't get used enough because it's too cold.
Our M6workout is an amazing combination of our most preferred seating at one end and a pool for exercise or play at the other. At 6metres long, the pool end actually becomes a 4x2metre small swimming pool and the 2m at the other end is dedicated to the spa seating.
If however, you'd prefer to spa separately to the splashing of the kids or swim jet action, please take a look at or M6dualzone which has 2 separate bodies of water. We've separated the massage spa and the swim spa so you can run them at different temperatures and enjoy a peaceful massage while the kids are playing in the pool end.
VIEW ALL PRODUCTS
Sapphire plunge pools are the ideal alternative to the typical backyard swimming pool BUT you can jump in all year round. With our economical heating systems and the smaller body of water, it's realistic to keep your plunge pool warm all winter and then cool it down for the summer months with a heat and cool pump.
We like to add a couple of swim jets at the pool end of for you to have a light exercise or for the kids to play in the jet stream. The wide steps & open plan layout of M5watersedge is ideal for child's play & toddler splashing.
Our plunge pools are completely factory built so can be installed in a day once your site has been prepared, either as a DIY project or with the help of selected tradesmen. If power to your site is limited then a plunge pool may be your best option as they don't require as much power as our powerful 4 swim jet models.
Our fully inclusive quote will detail every aspect of Sapphire's promise to deliver your chosen plunge pool, complete and ready to enjoy. We can quote & organise delivery including crane, if required.
VIEW ALL PRODUCTS