Sapphire Spas, Manufacturing The Finest Australian Made Swim Spas in Sydney

Whether you are looking to buy a swim spa in Sydney or perhaps even a spa pool, Sapphire Spas are an Australian owned spa company that design and build their very own spas right here in Australia, which is the first very good reason to read on and learn more about the benefits of browsing of our fantastic ranges of spas in Sydney made to suit everyone's needs.
First of all, when buying a spa in Sydney, it's important that you understand the difference between a swim spa and a spa pool. Swim spas are larger in size and length (which typically range from 3m to 6m in length, 2.3m wide and 1.3m deep) like a small swimming pool allowing you to be able to swim from side to side, and yet also have jets so powerful that when you swim against them you will remain in the same place, serving as great way to keep fit, improve your lap swimming skills and tone your muscles all at the same time. A spa pool however, is usually smaller an rounder, and more like a hot tub for you and your friends and relax and enjoy in. If you are looking for spa pool then click the link here to read more about them here.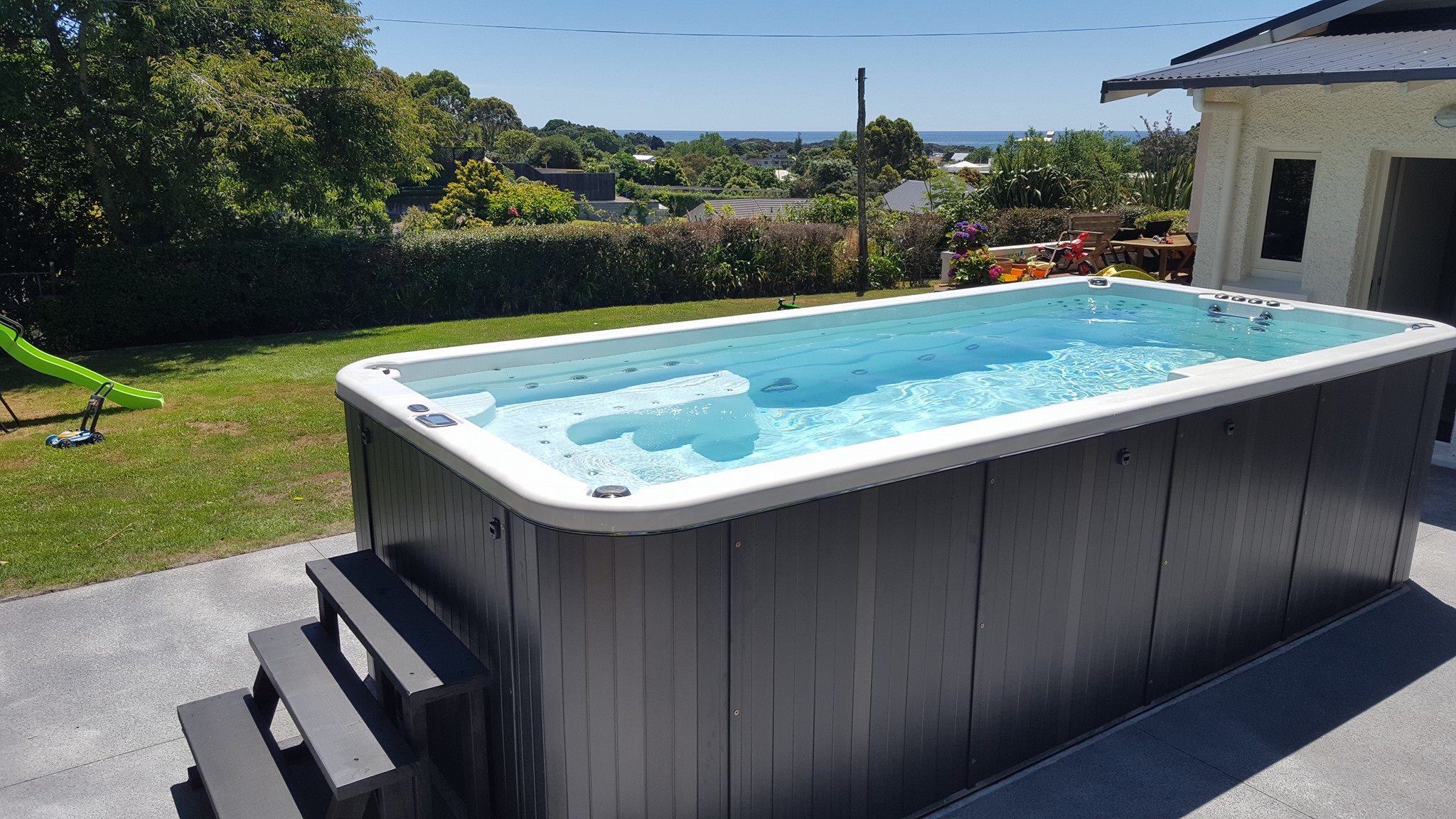 The Complete Sapphire Spa

Swim Spas

Range

We have 3 main categories of the swim spa pool range available in Sydney. These include the mySwimSpas, myDualZone SwimSpas and myPlungePools range. Our collection of family sized swim spas for massage and play are not only our largest spas but, because they can be heated, you can use them as a swimming pool all year round. Swim spas are basically a 24/7 gym in your own backyard with a hydrotherapy massage at the other end. You can swim, walk or run against the jets which are fully adjustable to cater for all levels of swim fitness. By adjusting your swim jets, you and kids will be able to swim strokes and hold yourselves in the jet stream. A race to 'beat the jets' and be the first to the swim from one end of the spa to the other is a fun game to play as it is not as easy as it looks, and also challenges your strength at the same time.
---
Have a look at some of our best sellers from our various swim spa ranges below.
---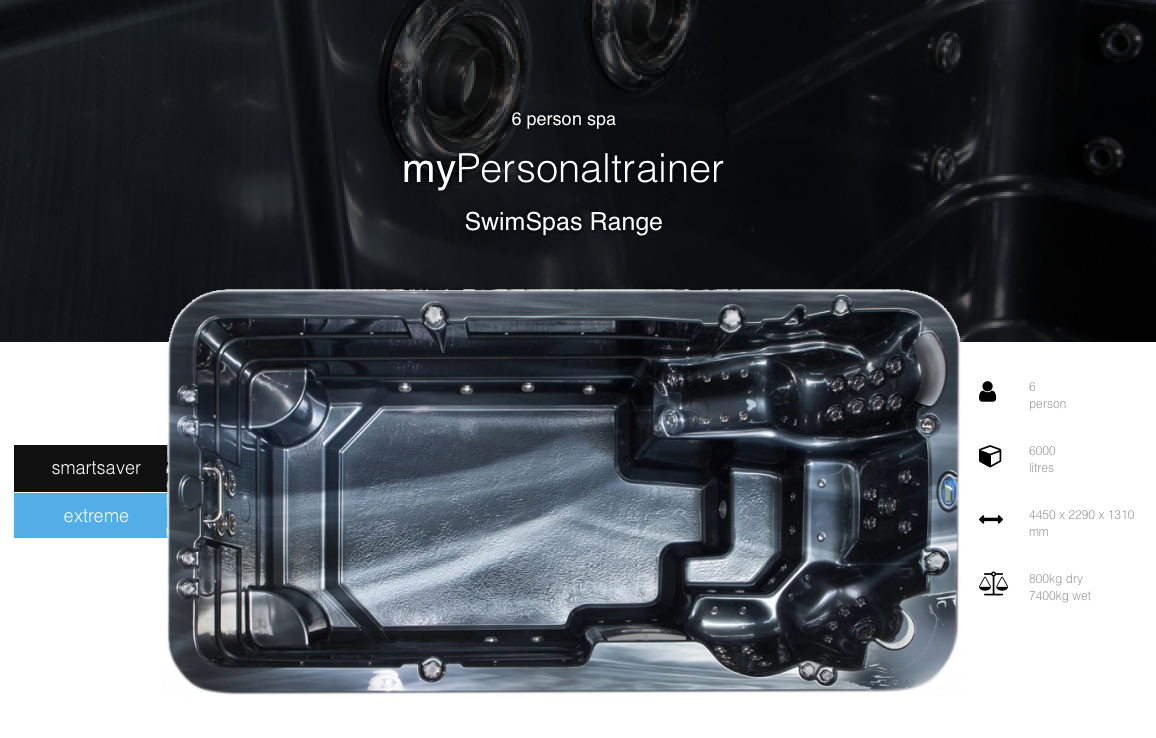 myPersonalTrainer is our best selling affordable family swim spa. It's 4.5m long with massage spa jet seating at one end and a large open area at the other end which is the just the right size for the kids to jump around in the pool or for swim training and exercise against the 4 powerful swim jets.
---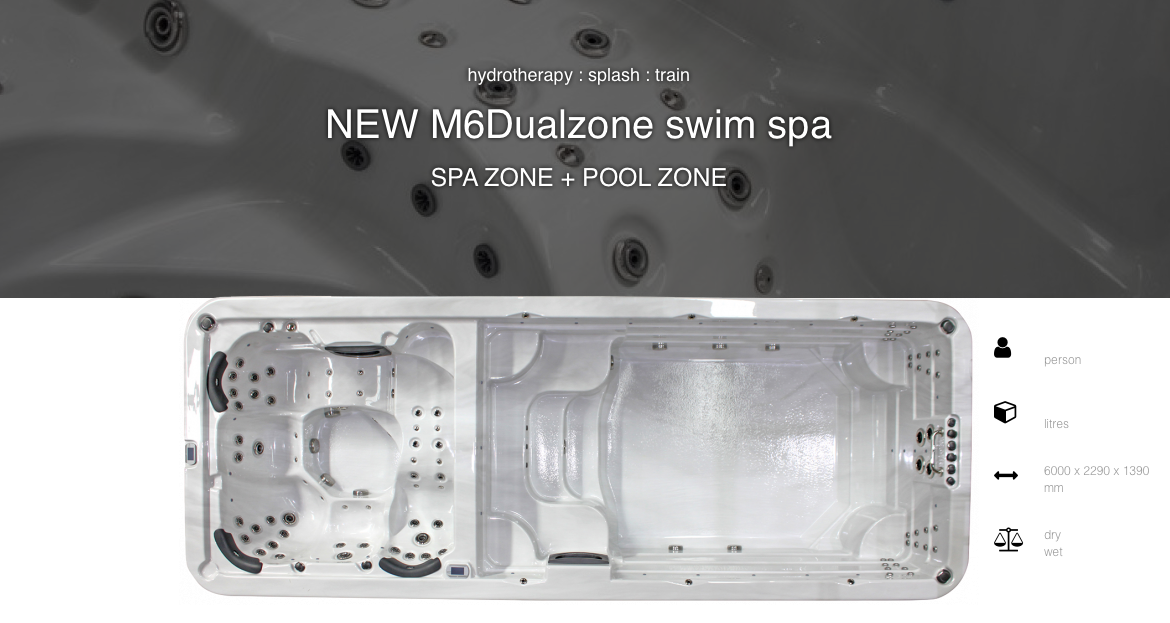 M6 DualZone Swim Spa
is our 6 metre twin zone swim spa has a swimming pool at one end & spa massage seating at the other. This provides a backyard pool that can be used all year round and is easier to maintain than the usual inground swimming pool. At 6metres long, this swim spa boldly takes it's place in your backyard, as the solution to the old inground pool which is time consuming to clean and doesn't get used enough because it's too cold.
---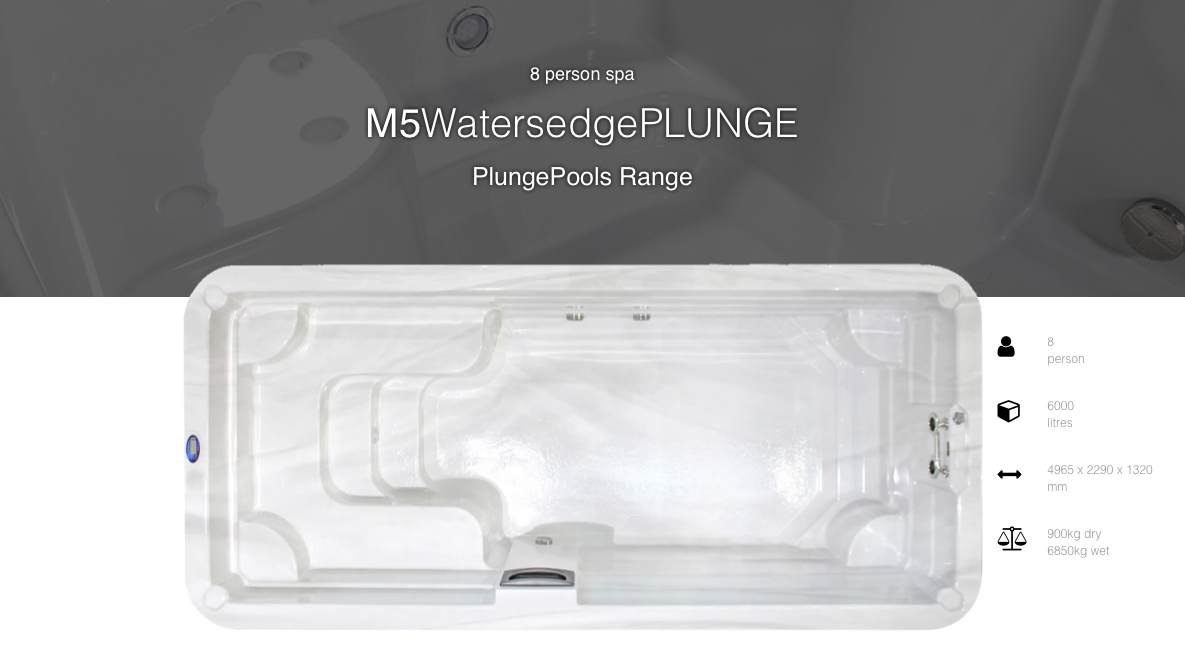 The M5Watersedge Plunge is our best selling family swim spa as part of the plunge pool range. Economical to keep warm all year round, you can enjoy this swimming pool sized swim spa which has heaps of room for the kids to jump around in the swim jet end. Mum and Dad can enjoy a hydrotherapy massage at the seated end which is shallower for toddlers to paddle and splash.
---
MORE ABOUT PLUNGE POOLS
Four of our best selling swim spa shapes can also be custom manufactured as an entry level PLUNGE pool. These spas only need one pump and there is significantly less plumbing, equipment and fittings as well as fewer standard features, making them a less expensive option. Plunge pools have become a popular alternative to the typical backyard swimming pool, as they are fast to install and a smaller and more manageable to maintain. With 2 swim jets powered by 1 pump, you can still enjoy the whirlpool movement of the swim jets, but it's more suited to childs play and splashing, much like a swimming pool, however you can easily warm the water for year round use. The 2 swim jets are fun for the kids to practice swimming against and enough resistance for those needing the swim spa as a recovery or rehabilitation tool or to maintain motion throughout the older years. Our M5watersedge is much like a swimming pool with wide, shallow entry steps & open plan layout for child's play & toddler splashing. Even if you add an optional heat&cool pump for cheaper heat retention, our plunge pools still only require a 20amp connection to run.
---
4 Key Advantages of A Swim Spa Over A Backyard Pool
1. As backyards now have less space, swim spas are a good fit. Smaller than your typical backyard swimming pool, swim spas (which typically range from 3m to 6m in length, 2.3m wide and 1.3m deep) have become the perfect solution
2. Investing in a swim spa is generally less expensive than purchasing a pool. A portable swim spa will cost from $16k for a very basic plunge model to $40k+ for a fully equipped dualzone, with the only extras being a reinforced concrete slab/base, safety barrier in some areas, electrical connection and water. Depending on the manufacturer, pool size, equipment, your site conditions and the customisation you choose, a typical swimming pool can cost between $40k and $100k+. Installation can also get quite pricy with hidden extras and additional landscaping.
3. Swim spas are easier to maintain and heat than pools because of their smaller size/body of water, so you can get your money worth and use them 365 days of the year, throughout summer & winter
4. A swim spa is a self-contained unit, so can be moved if you decide to relocate to another home
How much does a swim spa cost?
There is a wide range as far as pricing goes, but generally a quality Australian Made swim spa will start around $16,500 for our Plunge specification and range up to $40,000 depending on size, features and equipment. The number of jets, pumps and also the equipment to run the swim spa, relates to how expensive the initial swim spa purchase will be. With the top of the range spas, there is generally upwards of 70+ jets, numerous pumps, elaborate plumbing and packed full of included extras/features. This, as well as the size of the swim spa will determine which end of the pricing scale you fit into.

YOUR LOCAL SHOWROOM IN SYDNEY We have stores located around the Sydney metropolitan area and also throughout NSW so contact us to find your nearest retail showroom. We want you to be sure about your decision when choosing a spa that's right for you, so make sure you book in for dedicated one-on-one advice.
If you would like to speak with one of our swim spa sales consultants or come and see a swim spa at your local Sapphire Spas store right here in Sydney, request a follow up by clicking the button below.