Sapphire Spas, Making Your Outdoor Spa Dreams A Reality With Swim Spas Perth

It's a sizzling summer day in Perth, and you're relaxing in your swim spa with your nearest and dearest. Sound good? Sapphire Spas can make your swim spas Perth dream a reality. Whether you're looking for outdoor spa prices perfect for that outdoor family gathering, or a spa and pool combination for your garden, we will be able to find the ideal solution for you.

At Sapphire Spas, we want to fulfil your pool and spa home dreams. Our company is home-grown and has developed right here in Australia. We put our client's needs as our top priority, which is why we've worked to source and sell only the most exceptional range of pool spas. Do you love swimming but not have space for an outdoor pool? Are you looking for an outdoor hot tub with space to seat the whole family? If you're looking for your family's summer social hub and a 24/7 gym, we can provide you with that swimming pool spa you're looking for. If you're looking for a traditional outdoor spa pool then click this link to read more about them here.

We've been working with local communities and developing the swim spa Australia range for years. All our swim spas are Australian built, which means they are of the highest quality. Check out our swim spa reviews for endorsements from clients, or even chat with us online to ask our team a quick enquiry. If you want to see a swim spa for sale yourself, visit us at one of our stores today; we service over one hundred local communities throughout Australian and New Zealand so there's sure to be a store near you.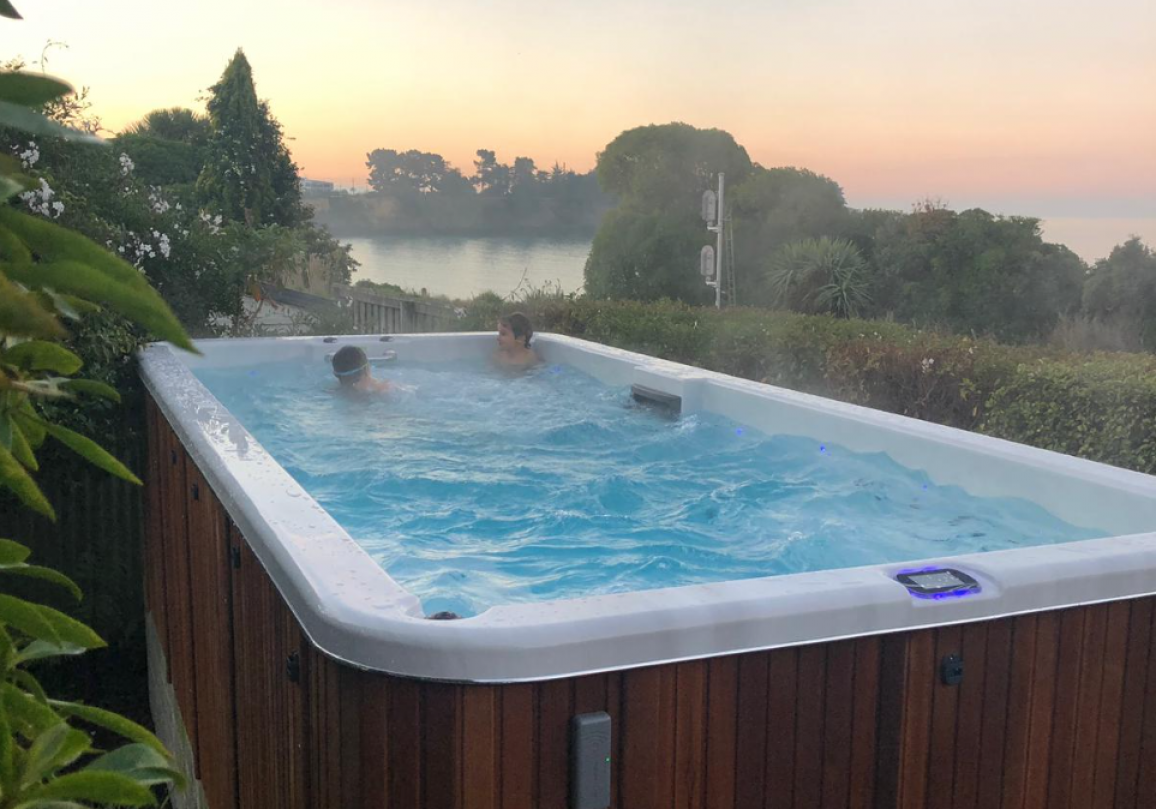 The Exclusive Sapphire Spa

Swim Spas

Range

We offer three unique ranges to combine a pool with spectacular spa facilities. Our extensive and high-quality range includes:
SwimSpas - the mySwim Spa range offers 4 - 6 metres of an unbeatable gym and family-fun sized relaxation hub. With fully adjustable power jets, you can manage your fitness levels by walking, running or swimming against the current. Experience the full power of an outdoor swim at a fraction of the cost. The hydrotherapy massage point is the perfect way to relax and celebrate after a successful swim. Explore the full range for expanded pool options for you and the kids.
Dualzone - our Dualzone swim spa gives you 6 metres of all-year-round use, and above ground spa facilities you cannot get with an outdoor pool. The multisection option provides hot tub seating space with a swimming area to rival even above ground pools Melbourne style. If you want a two-temperature, Dualzone swim spa for sale, or simply a space to relax while the kids splash about in the pool area, this could be the solution for you and your family.
PlungePools - Our plunge pools allow you to enjoy a swim all year round due to the dual cooling and heating controls. With light exercise provided by gentle jets, you can enjoy a swim without having to find out about things like pool fence regulations Victoria. Enjoy the comfortable seating area and optimum temperature for a fraction of the cost of a full-sized swimming pool. If you don't have a strong power supply to the area, plunge pools are the perfect solution with reduced jets. Onsite delivery and installation are available, with crane options if required.
---
Here's some of our best selling swim spas for family, fitness & fun.
---
Finding A Swim Spa That Works For You In Perth
With our extensive range of swim spas Perth, we're confident we'll help you find the perfect addition to your home. Here's a selection of our top three to help you make a choice.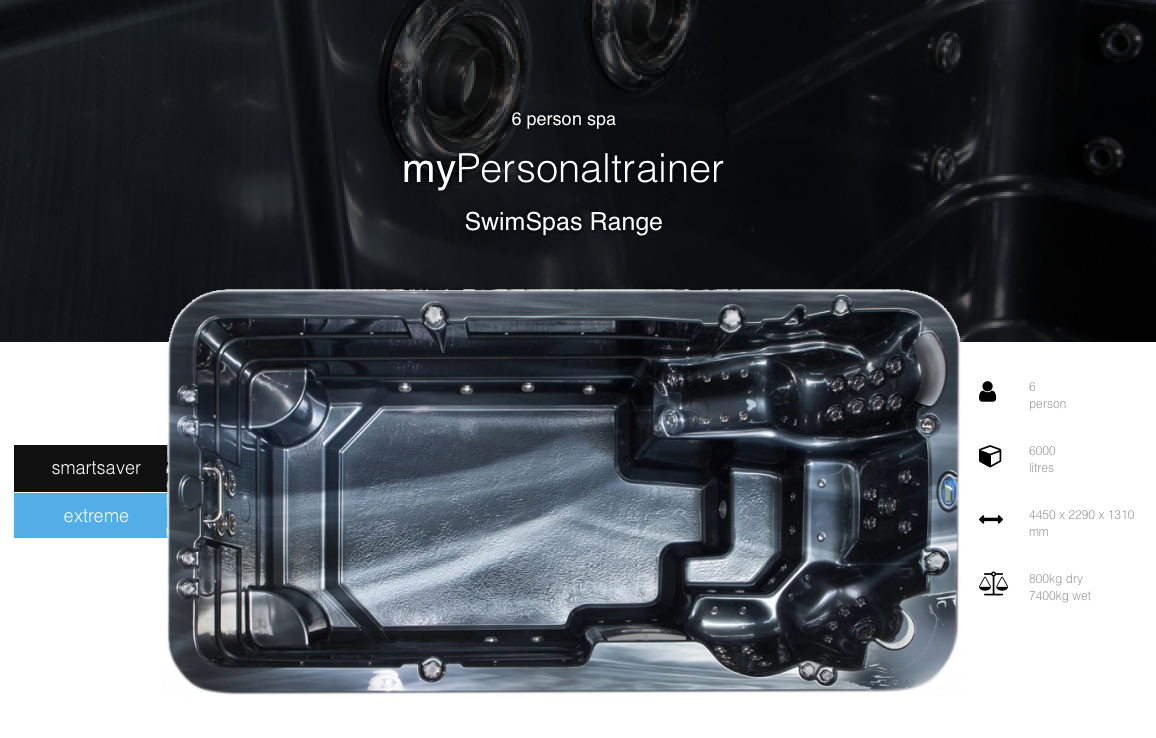 myPersonalTrainer swim spa is your comprehensive fitness program and a relaxing outdoor spa bath in one. With four fully adjustable superpower jets, you can swim at a leisurely pace or challenge yourself against a strong current. This six-person, 6,000-litre hot tub spa promises a luxurious rub-down with the vertical body jet panel, to reward yourself for all your swimming. Recover from your exercise with a lounge in the comfortable seating area. Want to upgrade your outdoor spa for sale? Ramp up the power with the extreme model, offering higher power jets and next-level jet and pump options. This model also has supersaver choices alongside the classic model for better pricing.
---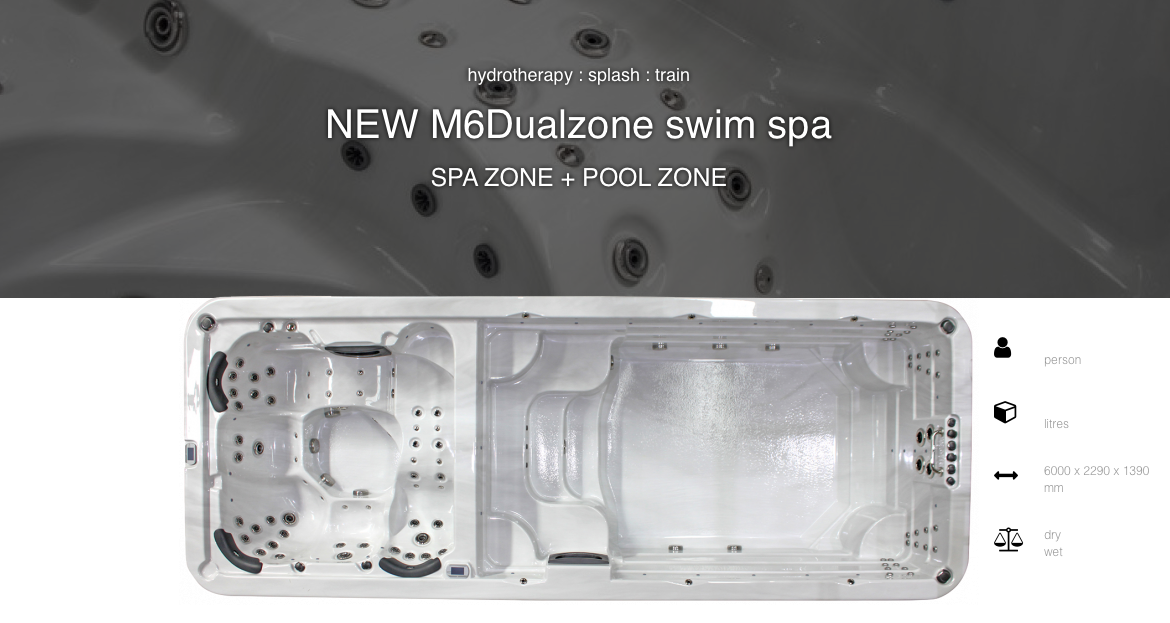 The M6Dualzone is a supersaver in terms of swim spa prices as it offers a combination pool with spa in two entirely different areas of the same hot tub. The M6Dualzone includes its own hydrotherapy spa with an independent 4 x 2m splash pool or training centre; all the fun of the pool without worrying about the maintenance of a swimming pool. This model is the main reason you should buy a swim spa and make some new family memories this summer. Choose from beautiful pool colours like ocean wave blue and top it off with a matching swim spa cover to protect your purchase and hold the heat in.
---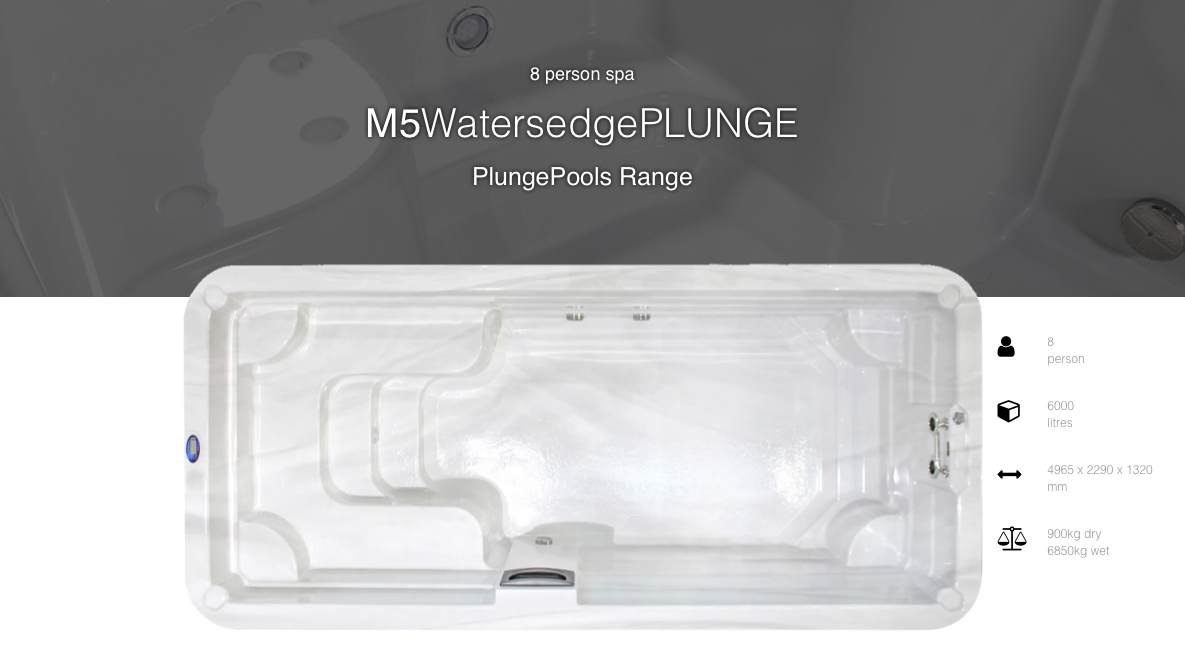 The M5WatersedgePLUNGE is an eight-person plunge pool ideal for an area with lots of space but limited power supply. Lounge on the seating with a chilled beverage and a hydrotherapy massage while your kids take the plunge, or enjoy some gentle swimming exercise against the jets. The ideal hot tub spa for sale in Perth, choose your pool and cover colours, and enjoy the high-quality cabinet panelling, including cedar timber or dark chocolate.
---
Sapphire Spas: Your Number One Swim Spas Perth Provider
Sapphire Spas are on hand to help you find your perfect swim spas Perth. We offer flexible model, colour and alteration options (talk to us about transforming your dream swim spa into a spectacular plunge pool). For the small price of a swim spa cost, you could be enjoying all the luxury of a holiday abroad from the comfort of your very own home. With all our products we provide our cutting edge technology, water care options and 5-10 year warranty options to show that we stand by our products.
Would you like to speak with our swim spa sales consultant, see a swim spa running & even jump in for a 'wet test'?
Contact us for an instant quote straight to your inbox, call us on 1300 069 772 for a new swim spa to meet your needs or come and talk to us at one of our many Sapphire Spa stores today.