If you want to relax in style in your Brisbane home or garden, there is no better way to do this than with a Sapphire Swim Spa

Sapphire Spas is an Australian owned and run business that provides a range of luxurious spas that suits a variety of tastes and budgets. All of the spas manufactured by Sapphire Spas are well-built and are manufactured right here in Australia. Because we are a company that is based in Australia, you will get local support for your product.

With over 100 dealers across Australia and New Zealand supplying Sapphire Spas, it is easy to see that we are a trusted brand that provides only the finest quality luxury spa. Specialising in swim spas, Brisbane residents can find the spa of their needs at Sapphire Spas. If you're looking for a traditional outdoor spa pool then click this link to read more about them here.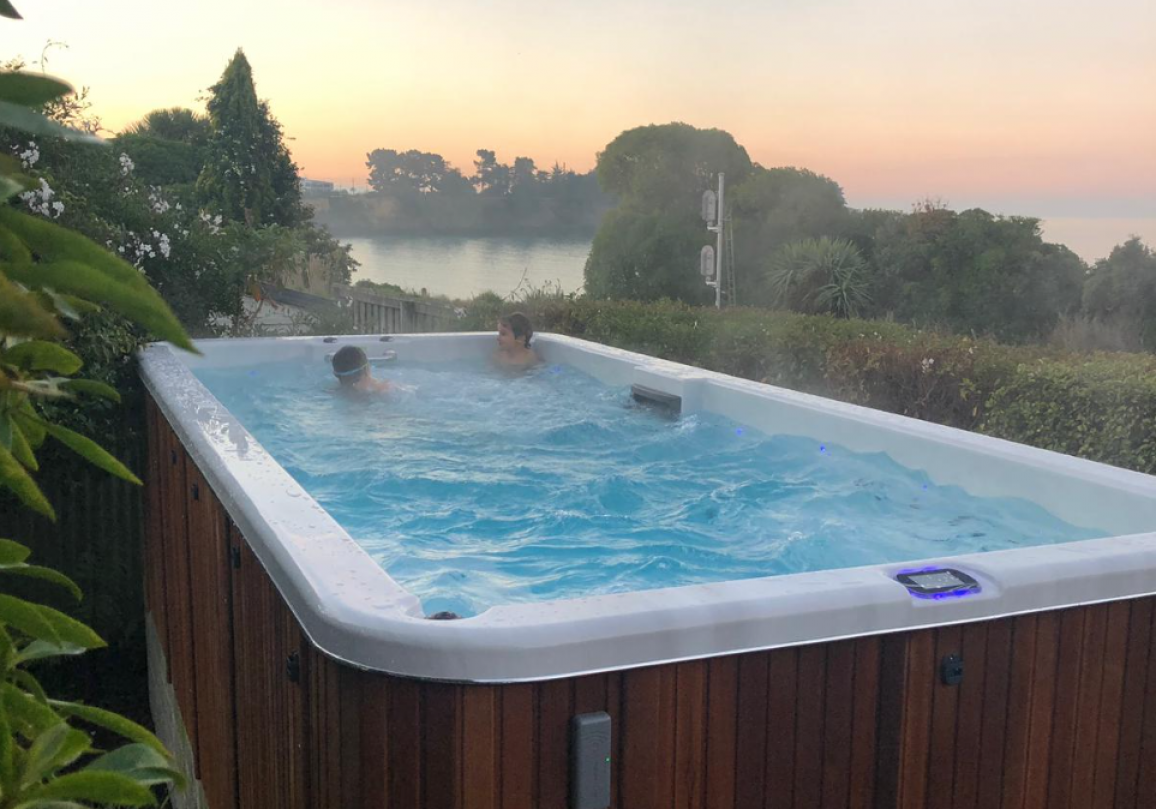 The Complete Sapphire Spa

Swim Spas

Range

Sapphire Spas is proud to provide luxury spas that suit your home, lifestyle, budget, and taste. Whether you are looking for a spa that can be accommodated in a smaller backyard area or spa that is big enough to swim in, at Saphhire Spa, we have a range of spas and swim spas.
There is a range of features and benefits associated with spas and at Sapphire Spa, whether you are looking for somewhere to relax and socialize, with hot jets of water that help to soothe you, or more powerful jets that can be used to massage you, we have spas that provide excellent value for money. In addition to traditional spa features, we specialise in spa pools and swim spas. Swim spas are larger than a regular spa but smaller than a pool. They provide the space to swim against the jets, or for kids to splash and play without the cost, or the space required for a standard pool.
Sapphire Swim Spas
Swim spas are a great addition to any garden or backyard area. They offer a great alternative to a traditional swimming pool. They represent better value for money and can be enjoyed in a variety of ways.
Swim spas are between four to six meters long and can be used as a family-sized spa that is also suitable for swimming. While they are than a standard pool, the powerful jets give you something to swim against, meaning you get the exercise that might from doing lengths of a regular pool in a smaller space.
You will find that swim spas provide ample room for all of your friends and family to enjoy, and the powerful jets provide you all with a massage as you relax.
Sapphire Spa Dualzone
Dualzone spas offer their owners the best of both worlds. A six-meter twin zone swim spa consists of a swimming pool at the one end with comfortable spa massage seating at the other. A Dualzone spa is like a swimming pool that you can year all year round, regardless of the weather. They are also easier to maintain than a conventional pool, saving a great deal of the hard work and stress of pool ownership.
The size of the Dualzone spa makes it suitable for most backyards and is especially useful for those whose gardens are unable to accommodate a larger swimming pool.
Sapphire Spa Plunge Pool
Plunge pools make the ideal entry-level swim spa, they are affordable and have fewer jets than that of their swim spa counterparts. That said, they still provide relaxation through their heated waters and their ergonomic seating provides comfort for the whole family to enjoy the plunge pool together.
Traditional plunge pools feature cold water. Our plunge pools can be cooled down using a cool pump. This means that you can determine the temperature based on the seasons
---
Why Choose A Swim Spa
Swim spas offer up the potential to enjoy great luxury in your garden. They are smaller than a pool, meaning you can fit on into a more confined space. They are lower maintenance than traditional pools, so you won't have to deal with the same types of hassle and expense associated with its upkeep. With benefits for swimming and relaxation, you will be the envy of all of your friends and neighbors who will no doubt want to pop around and jump in with you. With plenty of room in a swim spa, there is no reason to not invite people around.
Starting at around $16,000 for a basic plunge pool model, and going up to around $40,000 for one of the larger Dualzone models with more functionality, they have hold up well in comparison to the cost of having a swimming pool added to your garden. With swimming pools typically costing between $40,000 and $100,000, there are so clear financial benefits in choosing to have a swim spa added to your garden.
---
Call In For The Best Swim Spas Brisbane Has To Offer
At your local Brisbane showroom, we have our full range of materials and the right advice on hand to help you make a decision that suits you. With purchasing a spa being such a major commitment, we want to make sure you are happy with your decision and will be able to talk you through all of your options and work out which spa options are right for you.
To find out about the best outdoor spa Brisbane as to offer, get in touch today and make an appointment with your nearest Brisbane spa sales team to talk through your options.
Wet-Test Our Swim Spas
One of the best ways to discover the joys of owning your own swim spa is to jump in and try one. Call up our Brisbane showroom and arrange to meet with one of our consultants. They will be able to talk you through the various models, and you can see it in action.
Would you like to speak with our swim spa sales consultant, see a swim spa running & even jump in for a 'wet test'?
If you would like to know more about our swim spa products, or you would like to meet with one of our expert consultants call us today, or fill in our enquiry form and we'll get back to you.