myIndulge 5.0m swim spa
The myIndulge 5.0m swim spa by Sapphire Spas is meticulously designed for those seeking a genuinely unparalleled spa experience, combining exceptional exercise options with the ultimate comfort and luxury. This model offers an uncompromised sanctuary that caters to the unique desires of even the most discerning spa enthusiasts.
One of the standout features of the myIndulge 5.0m swim spa is its ingenious shape, which seamlessly integrates two full-body recliners without encroaching on the dedicated aqua therapy space for the kids. These ergonomically designed loungers are equipped with thoughtfully placed hydrotherapy jets, providing a soothing, full-body relaxation experience that allows you to unwind and quickly destress.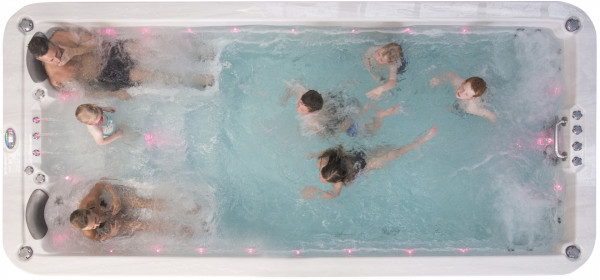 The myIndulge swim spa is a haven for relaxation and a state-of-the-art fitness centre. Powerful swim jets cater to a wide range of exercise preferences, from high-intensity workouts to leisurely water walks or jogs. The adjustable jet intensity ensures you can customise your training to suit your specific needs and preferences, making it the perfect at-home exercise solution.
myIndulge is also available in a 6.0m length.
DISPLAYED : image above shows 2021 model prior to phased manufacturing update of embossed headrest throughout 2022. myIndulge will now be supplied with updated embossed headrest
Product Specifications
SQR jets
swim jets
filtration pump
3Hp massage pump
powersmart control & touchpad
smartTOUCH digital touchpad
powersmart variable heater
powersmart heat pump
minimum power required
heat pump OPTIONAL UPGRADE
heat pump ready plumbing
clearzone water sanitisation
LED waterline lighting
iLight swim tracking
waterspouts
2 x cool down seats
envirogum or duratek cabinet
lockable hardcover
stainless steel support bar
DOWNLOAD TECH SHEET for equipment placement
other spa pools in this range