At Sapphire Spas we take pride in the quality of our spas, the fact that they are Australian made right here in Melbourne and that we are a 100% Australian owned company. So it should come as no surprise that we also take pride in our ability to deliver spas anywhere in the country.
Our experienced and skilled delivery personnel are experts at navigating tight spaces and difficult terrain to get your new spa safely and securely to its destination. From cliffside homes overlooking the ocean to multi-level apartment complexes, hidden balconies, inner-city rooftops and more there's nowhere that Sapphire Spas hasn't delivered a spa. No matter how challenging the delivery might be, we always ensure that your spa is delivered with care and precision.
In this blog post, we'll take a look at some of the most difficult deliveries that we've completed over the years.
Notel Melbourne Rooftop
https://www.sapphirespas.com.au/spa-gallery/notel-melbourne-city-roof-top-spa-by-myspapakenham
We have delivered so many spas to so many places it would be hard to pick the hardest or the strangest. When you go on holiday to any inner-city destination you might take for granted the luxury of a rooftop spa. However, you probably don't think about how it got there.
For new buildings, it's simple, include the spa in the design and install it during construction. For existing buildings, sometimes there are freight elevators to make things a bit easier, but what about when this isn't the case? Try this location for instance. For Notel Melbourne we got a spa into this super-tight location in the heart of the city! The low height of the rooftop compared to surrounding buildings provided a challenge for the crane operator, but our team delivered in spectacular fashion ensuring Notel Melbourne guests can enjoy a fabulous Sapphire Spa right in the heart of Melbourne.
Need a Lift
BUILD STORY : myPartner crane delivery
What do you do when you want a spa on the second floor of your bayside home? You call Sapphire Spas of course! This location pulled out all the stops to try and ruin this customer's spa dreams. Narrow access, steep terrain and rooftop location came together in a perfect storm of difficult delivery circumstances.
Not to be dissuaded by a challenge here and there, Sapphire Spas found the right delivery truck for the job, big enough for the spa and a large enough crane for the lift, yet small enough to navigate narrow suburban streets. And look at that view! We have the experience and the know-how to get any spa into any space!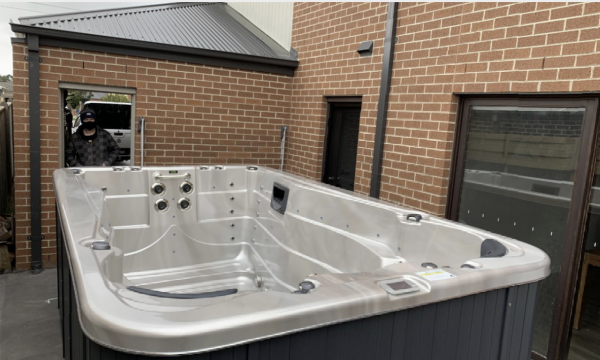 Anywhere, Anytime
BUILD STORY : mySwimgym craned onto concrete slab with glass safety fence
This delivery is an example of a commonplace suburban problem, you want to keep fit, you like swimming but you have a small suburban backyard. Fortunately, there is a swim spa for that exact situation! This narrow side of a Melbourne house was too small to be much use anything, but it happened to be the perfect size for a swim spa. This is exactly what our mySwimgym 4.0m swim spa was designed for: exercise, comfort, and relaxation while taking up barely 8sqm of yard space.
Having the right spa was only half the challenge, getting a spa into such a tight space was the real trial. The space was barely a meter wider than the spa and not a great deal longer, hemmed in by a fence on one side and brickwork on the others, we expertly craned this spa right into position with perfect precision. Now there is no need to travel to the pool or beach to keep fit or relax, no matter how small the space we can help!