When most people think of a spa pool, they think of a Hot Tub style installation, often below ground, installed into a home or home's exterior. They're not too far off, except modern day spa pools are more than that.

That said, simply thinking of these fantastic pieces of equipment as a hot water pool with bubbles, while an easy referral, misses out on so many great features you may like to make use of. As such, it's important to consider what those features might be, especially for people who cherish having a little luxury in their life.
After all, if you're investing in something to truly help rid you of stress and potentially even improve your health, surely it's important to know what options are out there for you? Say no more! In this post, we will discuss six amazing spa pool features you've probably never heard of. This way, you can become more informed (and excited) when browsing your options:
Dual Zone Selections
Spa pools are beautiful and relaxing, but it can also be nice to have some room to stretch out and even exercise in them. Dual Zone pools have two sections giving you the best of both worlds. One section is more like your standard spa with a 'seating area' accompanied with massage jets, and the other a larger and longer swim spa area for splashing around or doing aerobics exercise. These temperatures can be adjusted accordingly, allowing for two different pool experiences.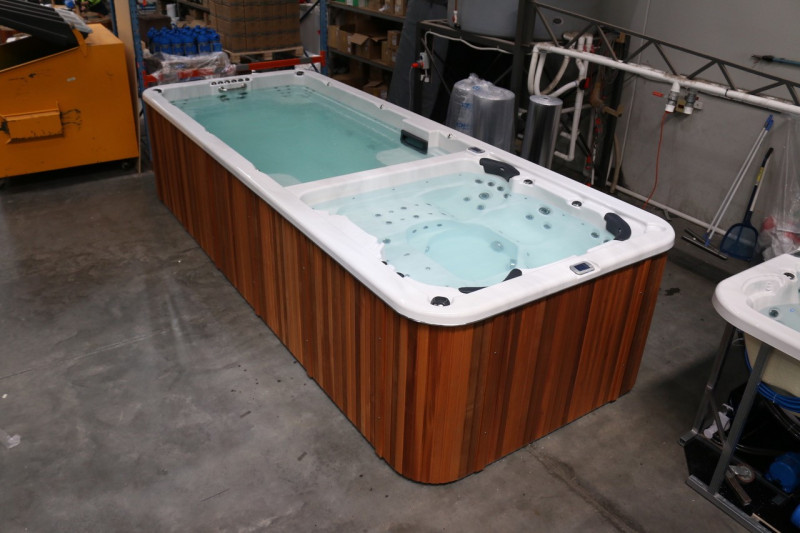 This larger segment can often lend credence to this installed pool, as it managed to blend the difference between a harder-to-heat and maintain indoor pool alongside a normal spa pool. In this way, you have a greater degree of control over your spa pool, and thanks to its heated nature, you can use it year-round. Of course, the extra space can also work wonders for social affairs, too.
Purewater CD Ozone Sanitisation
Ozone is a natural gas composed of three atoms of oxygen (O3). It is actually created naturally in the earths atmosphere when lightening strikes. It modifies oxygen molecules to become O3 then this amazing creation of nature cleans the air from pollution leaving that fresh air smell after thunderstorms. We have now devised ways of producing Ozone with machines and it's cleaning effects are mind blowing. It is 3000 times faster to purify water with Ozone than Chlorine and after it does it's job it simply turns back into Oxygen. It doesn't require any storage as it is produced as needed and is the strongest, fastest, commercially available disinfectant and oxidant for water treatment known to man. Isn't that cool?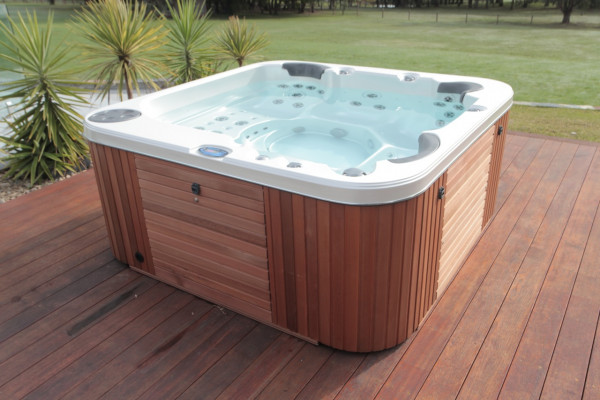 Ozone sanitisation is also a great way of ensuring crystal clear spa water without chemical irritations that can affect us after long periods of sitting or frequently using our pool. Instead, Ozone sanitisation uses O3 for a powerful oxidiser, allowing debris to be filtered and dissolved solids to be converted back into oxygen. This, assisted by a sterilisation method, allows 99.95% of viruses and bacteria to become totally neutralized. Of course, the most important part of a spa pool is its hygiene, and so a system like this can ensure maintenance is easy, confident, and most importantly - effective.
LED Lighting with Remote Control
There's almost nothing like the ambiance of sitting in a spa pool and having gentle music play over the speakers in your room, or outside. This can be a phenomenal way of getting a load off your mind and of feeling comfortable, confident, and calmed. It's also important to remember, however, that your spa pool could be loaded with ambient features, too.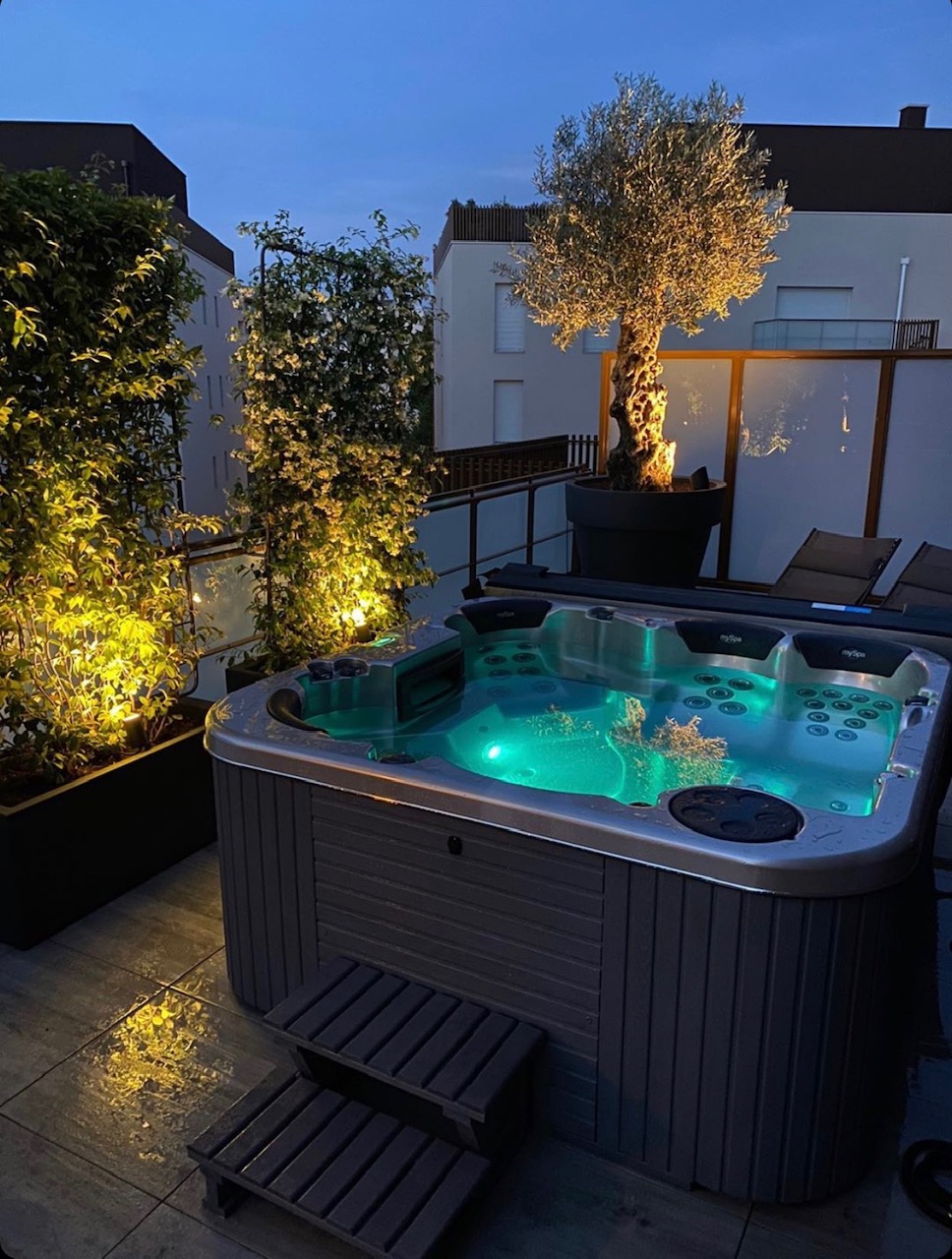 Namely, LED water lighting, with a range of liquid and light effects, can add a little aesthetic comfort and beauty to your time spent in this pool. Just think of how amazing this could look in a dimly lit room, spending time relaxing with a friend or a partner. Some LED systems may even produce multi-coloured and beautiful LED beams, interacting with the water movement perfectly to create a wholesome experience.
Mobile Phone Control (mySpaLINK)
MySpaLink is an amazing proprietary piece of software that enables you to control your spa more readily from a smartphone. In this respect, your phone functions as something of a Spa remote control, helping you change effects, temperatures and even synchronicity with your HiFi using a few easily-tapped buttons. As most modern smartphones are waterproof rated, this can serve as the perfect and convenient remote control option.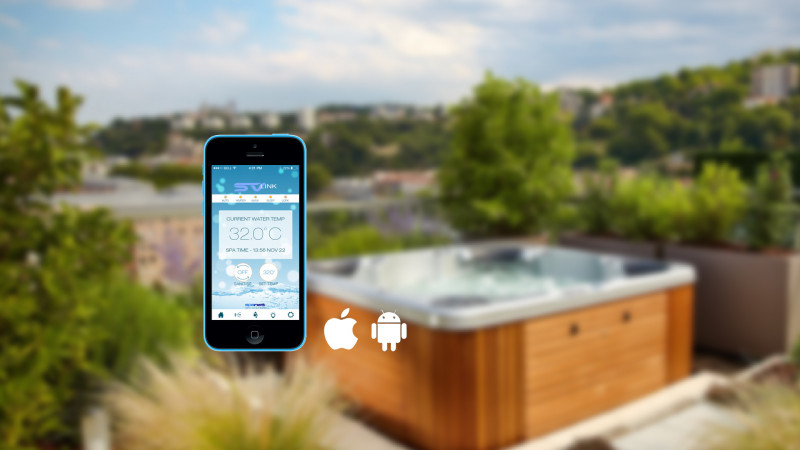 This way, you can find your perfect temperature and bubble amount, utilize fluorescent aromatherapy and curate all other settings without even having to get out of the pool. It's a true innovation in the art of relaxation, and you're sure to see how and why it's so important.
Transducer Sound System
Why rely on many other pieces of equipment in order to relax well in your spa pool? Comforting music is perhaps one of the most powerful tools (outside of spa pool relaxation) for de-stressing and taking a load off. This means that the mySpaHiFi module can serve as a fantastic all-in-one and purpose-built hi-fi system, enabling WiFi connectivity, iPod and MP3 docking if required, and smartphone streaming capabilities.
This means that having people over and enjoying a relaxation party, or simply spending time along listening to whale noises is not only easy but a quality and prescient experience. Furthermore, it offers three auxiliary audio input source options, allowing you to connect this amazing 50W speaker system to a television or another compatible device. With immediate control from MySpaLink, t's not hard to see just how convenient and enjoyable this experience can be.
Heating and Cooling Pump
Perhaps one of the major benefits involved with spa pools is that they can be temperature adjusted. But what if you wish to keep your spa at a consistent temperature throughout the day? Heat-cool pumps allow for this, allowing you to enjoy a cooling experience in summer, or a heating experience in winter. This means that, unlike a normal pool, there aren't 'seasonal periods' in which you can or cannot use your pool.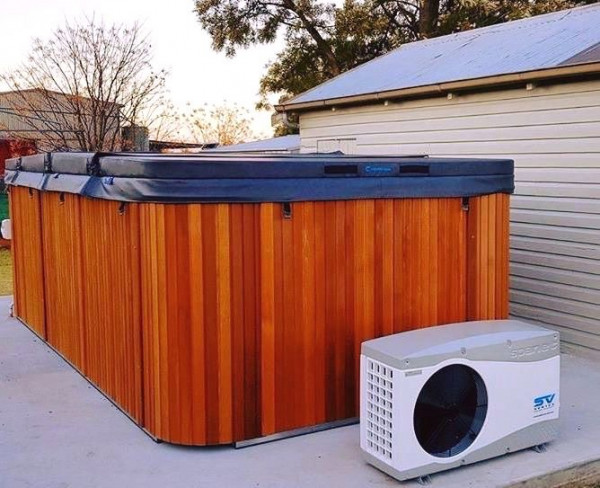 This means that the extra investment in a spa pool over a regular pool pays for itself because being able to use it for an extra six months a year without any problems is certainly worth double what you would have paid for an otherwise limited pool experience. And, of course, you get the awesome benefit of enjoying the perfect temperature for you.
To summarize, it's quite clear that spa pools are wonderful investments, as they can work magic for a wide range of people. That said, it can also be that with these hidden features that really do make all the difference, you become motivated to opt for a higher quality, more option-complete brand and product. In this light, you're sure to get the absolute best out of your spa pool, enjoying it as a real addition to your life schedule.