Let Go Of Your Senses And Enjoy An Indulgent Relaxing Experience In Your Brisbane Garden With Our Amazing Australian Made Spa Pools
It has to be said that there is no better way to relax in your Brisbane garden than with a luxury spa pool. At Sapphire Spas, we have developed a fantastic range of spas that are suited to all budgets and tastes. We are an Australian owned and run company that makes all of our products right here in Australia. For this reason, you will get the very best local support on all of your spa products.
You can buy Sapphire Spas products all over Australia and New Zealand, and there are currently over 100 dealers that sell our products. That is a clear demonstration of the confidence that other businesses have in the quality of our spas. Leave your relaxation to us and we will provide the spa you need.

At Sapphire Spas, we specialise in the range of different spa pools Brisbane residents have been waiting for. However big or small your garden is, we will have a spa that will suit your space and budget.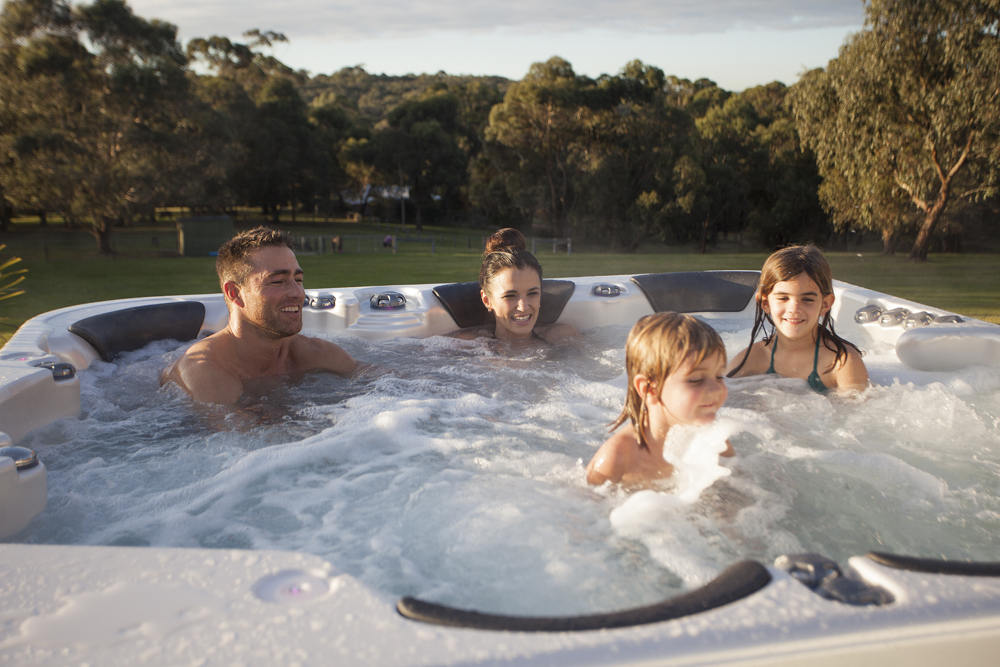 Our

Spa Pools

Range

If you are looking for a spa pool in Brisbane then we have exactly what you need. We produce a fantastic range of spa pools that can be enjoyed by you, your family, and your friends. There are several options to choose from including compact spas suitable for use by couples, family-sized spas, and luxurious and entertainer spas for those looking to impress their guests.
Compact spas make a great option for couples who are looking for that intermate moment. Or, alternatively, jump in on your own with a good book and get the world pass you by. Just don't get your pages wet. Our compact spas may be much smaller than other models, but they still have all of the same hydrotherapy power that you would expect.
Family spas are a great choice for if you want to share your spa with two or more people. If you have a family, or you are likely to invite a couple of friends around to enjoy your spa with you, then this is a great option.
If you plan on inviting several people around to enjoy your spa pool, then you will want to go for one of our luxurious spas. These are 2.3m square and come equipped with three pumps and roughly 70 jets.
For a much larger spa, you could go for one of our Entertainer spas. These allow you to spend time relaxing with lots of friends, family, or even your football team.
---
Take A Look At Our Best Selling Spa Pools
---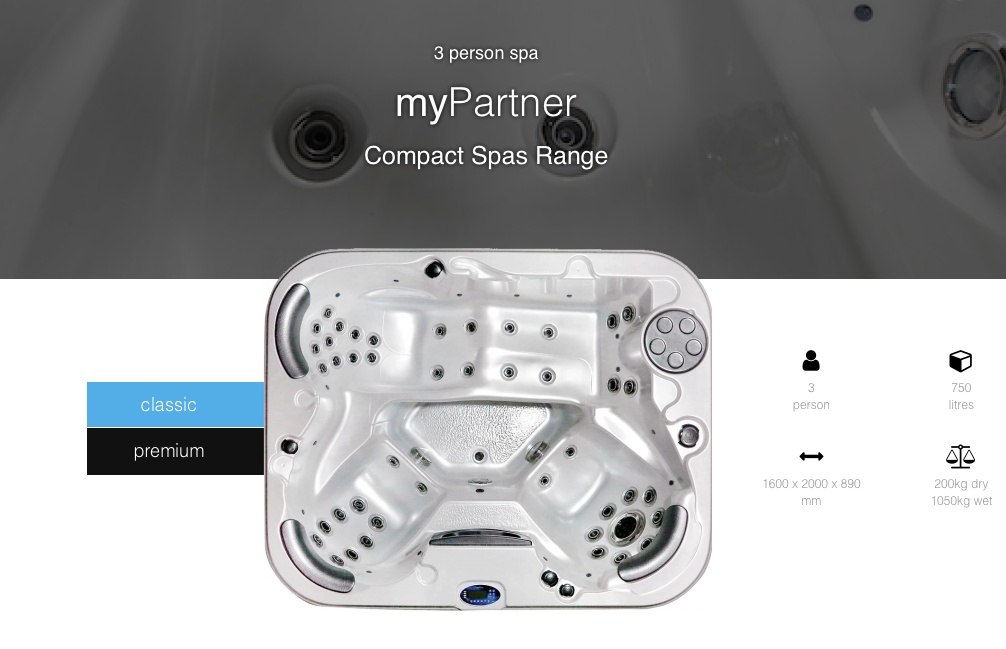 This great compact spa is not short on jets, though it may be quite small, it has a total of 40 jets built-in. This means that you can still get the full benefit of lots of jets working your muscles while you unwind. The footwell of the myPartner is where this compact spa pool really makes up for space.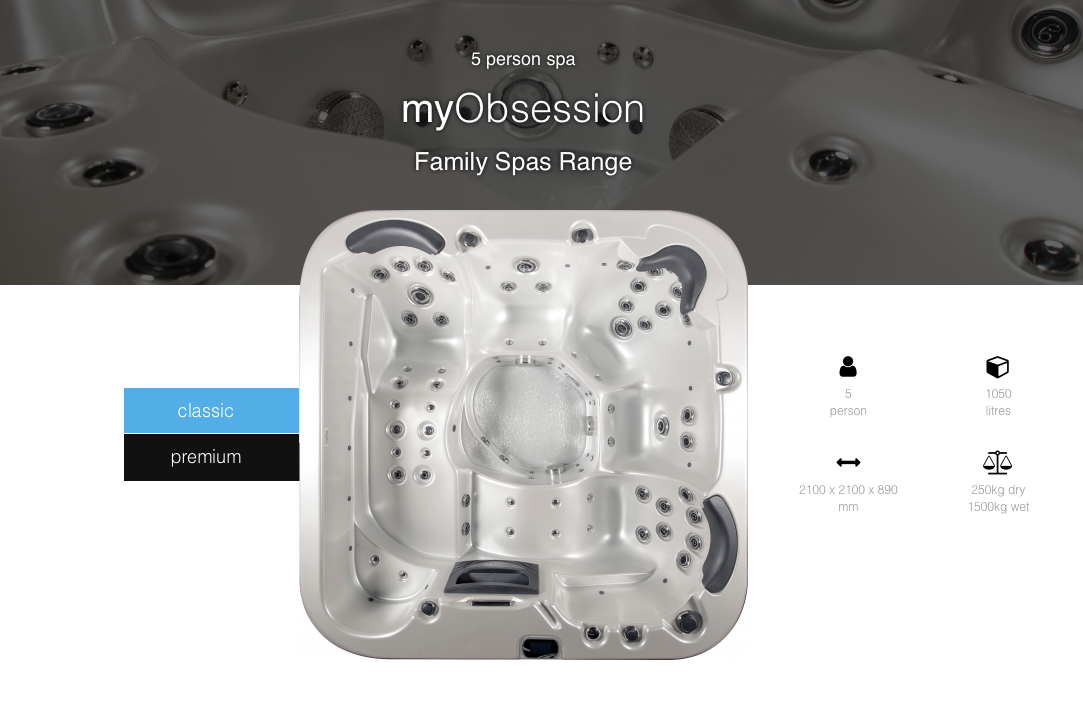 For families wanting to unwind in the comfort of a relaxing spa pool, myChillout is a great option. The spa itself can accommodate five people. It's 48 jets will ensure you all get to enjoy the sensation that they provide, while you will also get a neck and shoulder massage.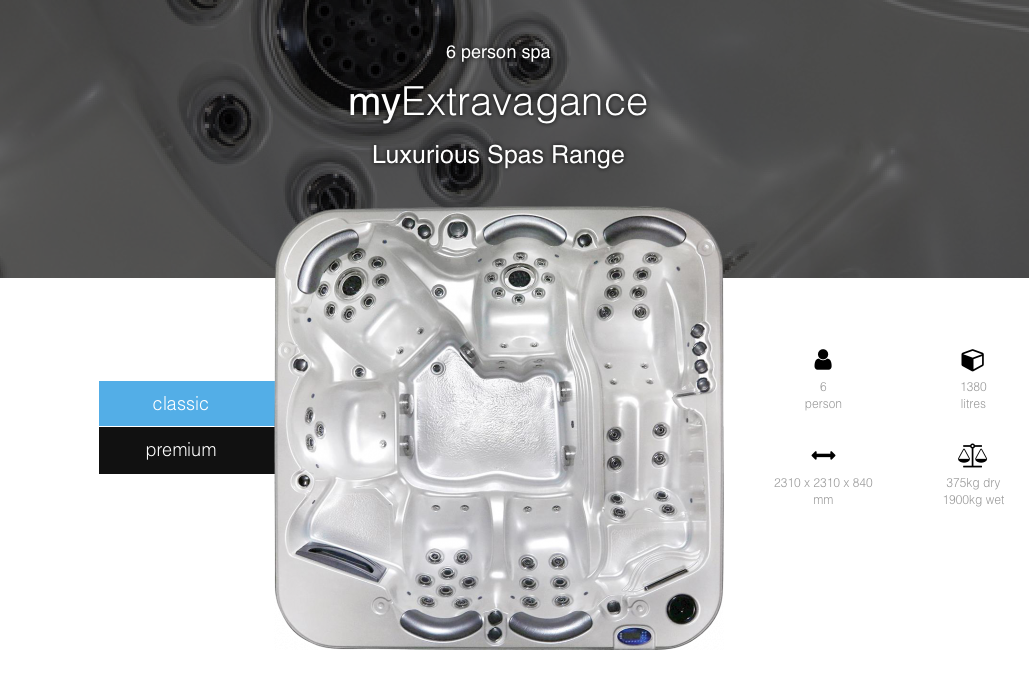 If you are sick and tired of coming home from work with a crick in your neck or shoulders that aggravates you and causes immense discomfort tight, the myRelaxation may be the solution to this problem. Your aches and pains will dissolve into the hot water as the jets work your knotted muscles, relaxing you as it does so. The myRelaxation can be used by six people at once, so the whole family can sit inside. Or, you could always retire to the spa pool with a glass of wine after having friends round for dinner.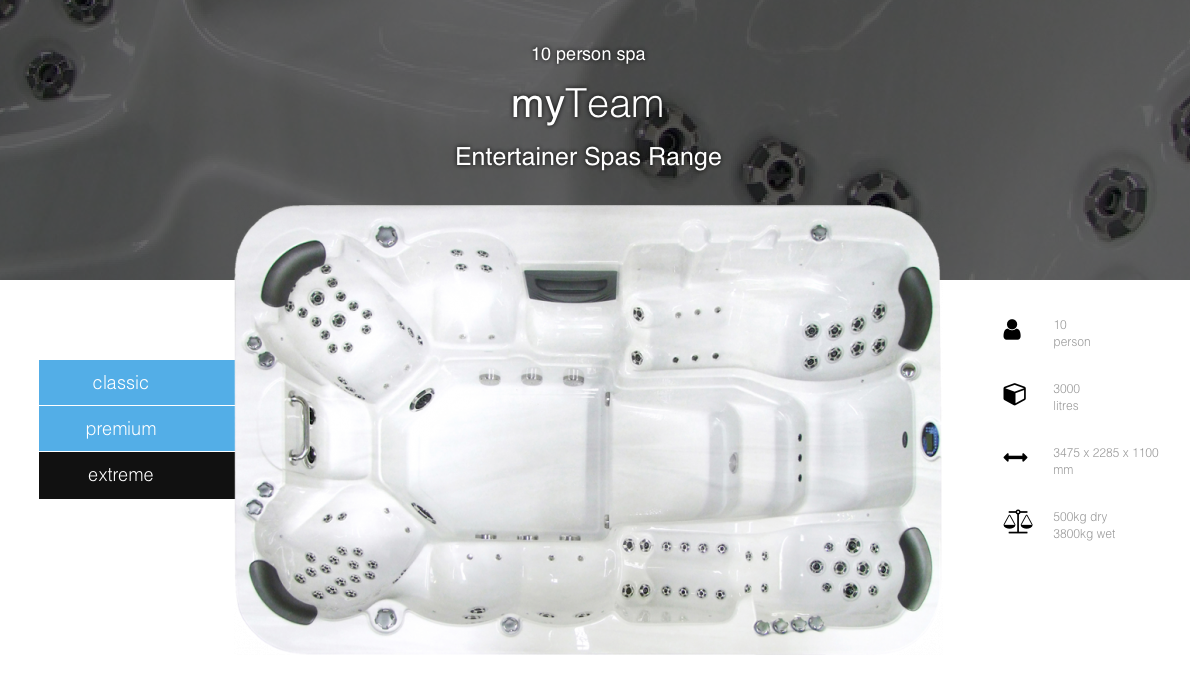 This large spa pool has enough seating for 10. The myTeam spa pool is designed with comfort, in mind. With the myTeam, Sapphire Spas has designed and built the ultimate outdoor spa pool. This spa is ideal if you have a large garden or backyard.
If you are hosting a small party, take to the spa pool to really entertain your guests.
Although one of the major benefits of the myTeam is the fact that it can seat ten people, there are also a host of different ways of adjusting your seats to enjoy the full power of hydrotherapy. Get into position and enjoy a full body massage. The powerful pumps on this spa pool are capable of delivering a vast amount of water, which can be used to full effect when soothing all of the aches and pains that you may be struggling with.
---
Spa Pool Fencing Regulations
Every state has its own different fence regulations. Our team will be able to advise you on the specific pool fence regulations Queensland has in place. Call in and see us, or get in touch today.
Call Into Your Local Brisbane Showroom To Learn More About Our Spa Pools
In order to make a decision on which spa pool is best for you, you should take a trip over to one of our showrooms to see them in action for yourself. If you are not sure where your closest Sapphire Spa showroom is in Brisbane, get in touch today. Once you have found out where you are going in order to see us, book in for an appointment with one of our very knowledgeable advisors and we'll go through all of our products and give you a full breakdown of all the features and benefits of the spas that interest you the most.
Would you like to speak with our swim spa sales consultant, see a swim spa running & even jump in for a 'wet test'?
If you want more information on the most beautifully made spa pools Brisbane has on offer, call us today on 1300 069 772 or send us a message using the enquiry box on this site and we will get back to you as soon as we can.